Our true desert tomato
One of Australia's true tomato plants, and one of the few edible tomato-relations in Australia.
Also bush tomato, desert raisin, kutjera (akadjura/kutjera are generally applied to the dried and ground spice).
It is a very popular plant, mostly wild-harvested, and can be very difficult to source at times.
Latin name: Solanum centrale.
Eating
The fruit of a sparse desert plant.
Intense spicy, caramelly, tomato-ey flavour with a bitter edge.
Best used as a spice rather than a central ingredient.
When dried and crushed to a powder, is often known as "akadjura" or "kutjera".
Whole berries work well in sauces and flavourings for meat.
Akadjura is very good mixed with salt and used to enhance savoury dishes.
Mixes well with flour to make breads, pasta, etc.
Mixes surprisingly well with coffee to round out the coffee flavour.
Growing
We've not grown it ourselves so this is rather extrapolated from our knowledge of its growing habits!
Found naturally in the desert and arid regions of central Australia.
Appreciates the ACT region's lack of humidity, but needs to be protected against the daytime winter temperatures and heavy soils.
May do well in a pot, brought inside in winter.
Fruit must be ripe before it's ready to eat – orange or oche-red. Green fruit can be toxic.
There are many species of Solanum in outback Australia, and they all look very similar to the one edible plant. Always check before eating wild-foraged fruits!
There is an excellent Bush Tomato Handbook released by Ninti One, which we are using as our main resource for growing this plant.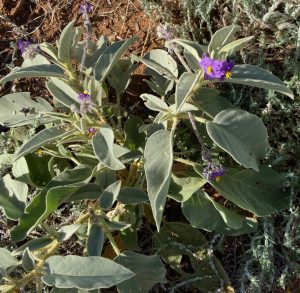 Harvesting and storage
Bush tomatoes ripen around June each year. They must be fully-ripe before they're edible.
They can be used fresh or dried, although there's actually not a lot of difference between both states!
Bush tomatoes will keep fresh in the fridge for several weeks.
They freeze extremely well.
They also dry very well.
Dry over several weeks on well-aired trays or baskets, in a cool, dry, well-aired location. Check regularly for mould.
They also dry in a dehydrator; it may take up to 24 hours or more to completely dry.
When dried and ground, the resultant powder is called "akadjura" or "kutjera" (the name changes depending on the local language).