Rich aniseedy scent
These lovely trees represent possibly the most popular scents in Australia at the moment. The leaves have rich flavour/scents which are increasingly popular for culinary and cosmetic purposes.
They are generally found in sub-tropical rainforest areas in northern NSW and southern QLD, but are adaptable to most domestic growing with a little care.
Also Ironbark, Anise myrtle, Ringwood
Latin name: Backhousia anisata or Syzygium anisatum (it's changed names over the years)
Eating
A rich, sweet, aniseed/fennel flavour from the leaves.
If you like aniseed, you'll love aniseed myrtle; if you avoid black jellybeans, then avoid aniseed myrtle.
Use wherever you might use want an aniseed scent but not a strong flavour.
As a result, is fantastic in sweet milky dishes such as ice-cream, custards, cakes, etc.
Fresh or dried whole leaves make a lovely tea, particularly iced tea.
Use fresh or dried whole leaves when cooking whole fish to add a rich aniseed flavour.
Use ground leaves in practically anything – sweet or savoury – to add the aniseed scent.
Growing
Are tropical or sub-tropical rainforest plants and can grow quite large (over 5m in height) in tropical conditions.
They start off in the understory, so require shelter from extreme weather (wind, heat, direct harsh sun) for their first few years.
Can be frost-tolerant once it gets large enough.
Make an excellent container plant; move to the most sheltered positions during the year until well-established.
Requires regular watering
Plantations do well as far south as the NSW South Coast region – our myrtles come from a plantation near Narooma.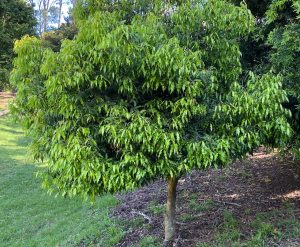 Harvesting and storage
Use both whole and ground leaves, both fresh and dried.
Myrtle leaves dry very quickly in a cool, well-aired location. Keep out of direct sun or heat for the best result.
If harvesting your own plant, try keeping leaves on pruned branches and placing in a vase with no water. Ensure good airflow around the stems and leaves to prevent mould.
The result looks wonderful, and will give out a subtle scent over the next week or so as it gently dries.
Leaves can also be dried at low heat in a dehydrator.
Leaves can then be easily stripped off the stems and placed in an airtight container for storage.
Whole leaves will keep their savour for a good 12 months, if need be
Grind by hand or in a high-powered blender and store in an airtight container.
Ground leaves will retain the best scent for about three months.