Lemon aspen and tonic sorbet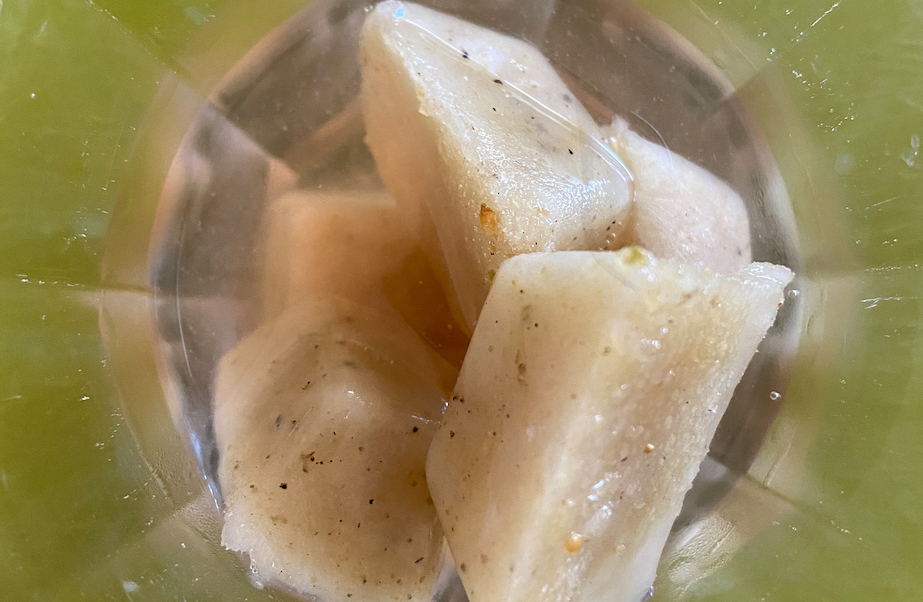 A highly aromatic, lemony, sharp and tart sorbet. Ideal for ice-cubes in a summer drink.
Ingredients
Lemon aspen fruit

fresh or frozen

Tonic water
Instructions
Weigh the lemon aspen. Measure out one millilitre of sugar syrup for each gram of lemon aspen.

For eg, for 500g of lemon aspen, use 500ml of sugar syrup.

These quantities are rough - keep some syrup and lemon aspen aside so you can adjust the flavour for your preference.

Add lemon aspen and sugar syrup together. Add one lemon myrtle leaf.

Blend lemon aspen with sugar syrup until smooth.

Add your preferred tonic water, at about half the quantity of syrup/lemon aspen. For eg, for 500ml of syrup, use 250ml of tonic water.

Taste for balance. You need to taste all the flavours - the aromatic sharpness of the lemon aspen, the sweetness of the sugar syrup, and the bitterness of the tonic.

Note that you do need to make sorbets stronger than you would use plain; the intensity of the sweetness and bitterness is lost when it's churned and frozen.

Place in ice-cream churn and churn as per instructions.

Decant churned slush into ice-cube trays for easy use in drinks, or into a container.

Freeze.

Use in small quantities on its own, or to accompany other sweets. Is superb with drinks such as gin and tonic.