Olive oil crackerbark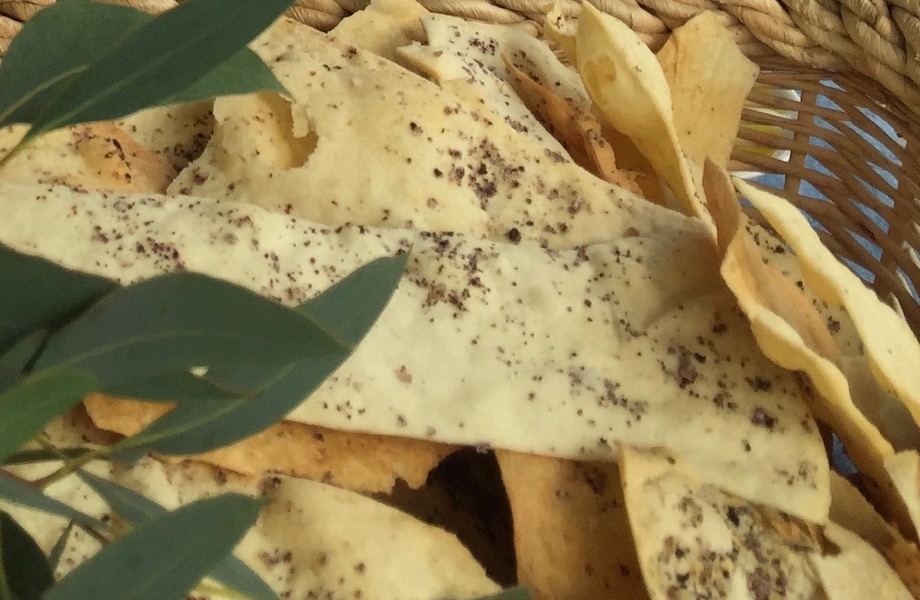 A very flexible recipe that changes depending on the flavours you add to it. Vary quantities of salts, herbs, and spices to suit your tastebuds. Bake as large sheets for "bark", or cut into cracker sizes for easier use and storage.
Ingredients
3 ½

cups

400g plain flour

2

tsp

baking powder

1

cup

water

2/3

cup

olive oil

plus extra for brushing
Flavoured salts - you need around 1tsp of whatever you want, but use more if you want!
Instructions
Pre-heat oven to 180C (160C with fan, gas mark 4).

Mix flour, baking powder, and salt and/or herbs.
To mix by hand
Place flour mix on a board.

Make a well in the centre and add the water and oil slowly and gradually.

Use a finger to start pulling flour from the inner sides of the well into the water and oil.

Once there is no liquid left, scoop all the flour into the centre and knead until all the flour is together.

Knead just enough that the water and oil is mixed evenly. You don't need to knead this like bread, however.
If mixing with a machine with a dough hook
Place flour mix, oil, and water into the bowl of your machine. Use a dough hook if appropriate.

Mix on relatively low until liquid is incorporated. (This stops everything splashing everywhere!).

Knead at a higher speed until it comes together in a dough. Stop once it's together; you don't need to knead this like bread.
Once dough is made, roll out as thin as possible
You will have quite a soft dough.

Divide dough into three pieces.

Roll out one piece at a time on a well-floured surface. Lift and turn frequently to keep from sticking.

The aim is to get the dough as thin as possible without tearing. A pasta machine is excellent for this – pass through to the lowest setting you can – 1 or 2 if possible.

When finished, place the dough sheet on baking paper.

Brush the dough with oil and then sprinkle with about ¼ tsp salt and/or herbs for each piece of dough.

Use a rolling pin to flatten the salt/herbs into the dough.

You can leave the cracker as a single sheet – bark – or cut into your own desired size and shape using a knife or pizza cutter.

Whole sheets are very easy and good fun; smaller sizes are easier to store. Use your imagination.

Transfer crackers/bark to a baking tray using the paper.

Repeat until all dough is used up.

Bake in the oven until it gets a golden tinge, about 8-12 mins.

Let cool to crisp up.
Tags
Vegan-friendly, Vegetarian-friendly