Lemonberry or Wattle bikkie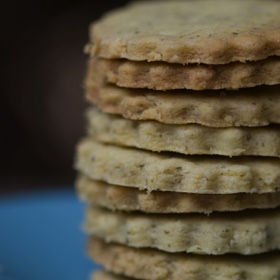 A basic sugar biscuit (or cookie) recipe with native Australian flavours.
Ingredients
125

g

butter

softened

100

g

Lemonberry Sugar OR Wattle Sugar

1

large egg

(at room temperature)

2

cups

340g plain flour

(using some wholemeal flour makes a firmer bikkie)
Instructions
Cream butter and sugar together until well mixed.

Add flour and continue mixing.

It may be a bit crumbly. You may need to use your hands to bring it together into a soft dough. Try not to over-mix, however, as bikkies get tough if overmixed.

If you're making sliced bikkies, roll into a tube or sausage shape. If you're rolling out and cutting into shapes, flatten into a disc.

Leave to rest in the fridge for 30mins, wrapped in plastic (so it doesn't dry out).

Heat oven to 180C. Line two baking trays with baking paper, or grease well with butter.
For making shapes
Dust a chopping board well with plain flour.

Cut dough into four pieces. Roll the first piece quite flat – no more than 1/2cm high - and cut into circles or shapes. (I like to use a 5cm fluted round cutter).

Carefully transfer your shapes to your baking trays.

Repeat with the other four pieces until all the dough is used.
For slicing
Use a sharp knife to cut the tube into half-centimetre thick slices.

Lay slices on baking trays.
For all bikkies
Bake for 10-12 minutes, or until just golden.

Leave to cool on the trays before eating or transferring into jars.

The lemon myrtle and forestberry herb flavour develops over a couple of days. These will last a week or two in an airtight jar.
Notes
The uncooked dough will last a good week in the fridge. It can also be frozen and brought out when it's needed. It can get freezer-burn, however, so package well.