Warrigal greens bread or rolls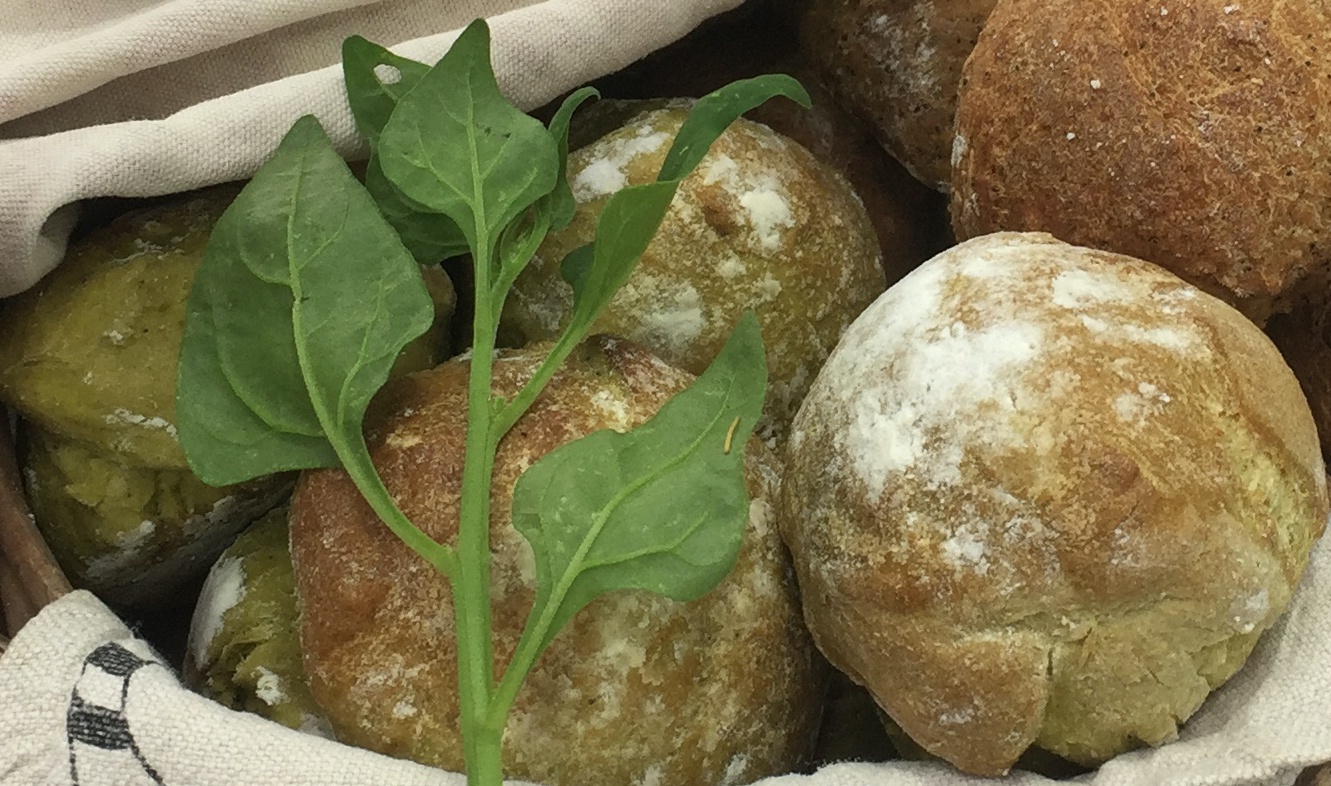 A distinctly green, slightly sweet, moreish bread.
Ingredients
500

g

strong white bread flour

60

g

Warrigal Greens on the stem

seed cases removed

10

g

fresh yeast

or 5g dried yeast

½

tsp

salt

Warm water to make up 300ml of liquid when mixed with the blended warrigal greens
Instructions
Prepare the Warrigal Greens
Place the Warrigal Greens in a saucepan and add water until greens are half covered.

Boil the Warrigal Greens for about 3 minutes, using a spoon to push leaves and stems under the water.

Drain the greens and rinse briefly with cold water.  

Note: you can't re-use the warrigal green water in the bread – it must be discarded due to the oxalites that have just been removed.

Add greens to a food processor or blender and add a few tablespoons of water.

Blend the greens to a smooth liquid. Try to ensure there are no chunky bits at all.

Add warm water to the greens to make up 300ml liquid. Blend thoroughly.
Activate yeast
Place yeast in a small bowl.

Add about a tablespoon of the warm liquid to the yeast, and stir/cream until the fresh or dried yeast is liquid.

Let sit for about 5 minutes. The yeast should start bubbling.
Make dough
Add the flour to a bowl with the salt.

Pour on the creamed yeast, then add the Warrigal Green liquid.

Mix until you have a dough. I use a food processor with a dough hook, but you can use your hands of course!

Knead until the dough is soft and satiny and a rich green colour – at least 6mins in the food processor, or at least 12mins by hand.

Cover dough with a teatowel and let rise in a warm place for 1 – 1.5 hours.

After this time, pull the dough out and knead gently for a couple of minutes until the air has been removed.

Either shape the bread into a loaf as per your own preference, or shape into bread rolls and place on trays.

Cover and let rise again for an hour (for a loaf) or 20mins (for rolls).

During this time, pre-heat the oven to about 205C-210C.
Bake rolls
When the dough has proven for the second time, place tins or trays straight in the oven and bake for 30mins (loaf) or 20mins (rolls). If baking a loaf, drop the temperature to 180C for the last 10mins.

Remove from the oven and let cool before removing from bread tins or baking trays.
Notes
To the baker goes the first taste-test - break open a fresh warm roll, or cut off a slice of bread, and spread generously with a salted butter. It will immediately melt into the warm crumb. 
Enjoy.
Tags
Baking, Warrigal greens