Anzac bikkies with Wattleseed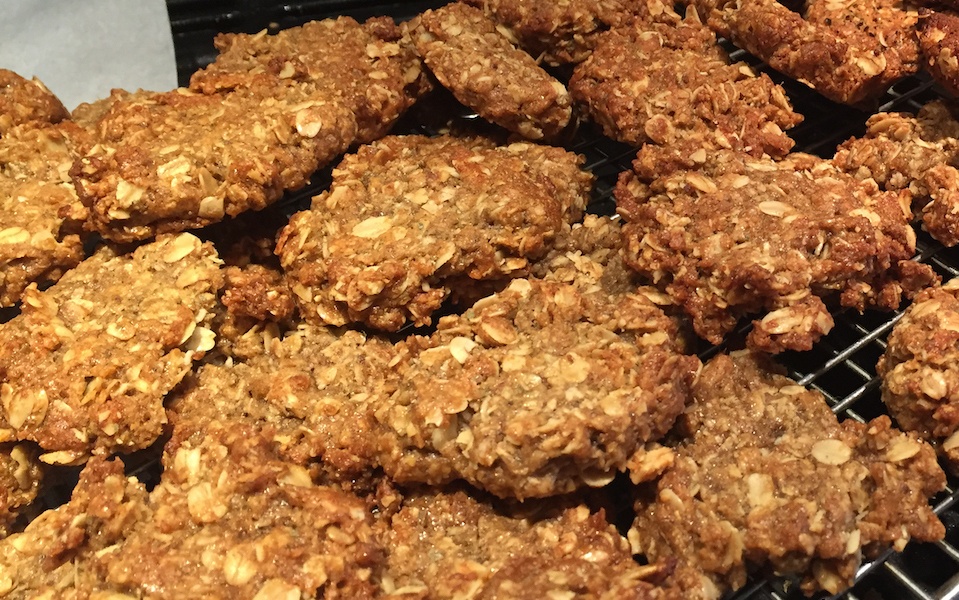 Wattleseeds have been adding their warm, nutty crunch to ANZAC biscuits for many years now. Here's how to make your own.
Ingredients
1 1/2

cups

rolled oats

1

cup

plain flour

1/2

cup

white sugar

2

tblspns

ground Wattleseed

1/2

cup

desiccated coconut

125

g

butter

2

tblspns

boiling water

2

tblspns

golden syrup

1

tsp

bicarb soda
Instructions
Preheat oven to 160 degrees C.

In a bowl, mix the oats, flour, wattleseed, sugar and coconut.

In a saucepan, melt the butter and butter and golden syrup over a low heat, stirring until combined.

Mix water and baking soda in a cup and add to melted butter mixture. It will froth up.

Add all of this to the dry ingredients. Mix well.

Take teaspoonfuls of mixture and place on lightly greased biscuit tray, flattening them a little with a fork.

Leave 3cm between the biscuits for them to spread out.

Cook for 15 minutes. The edges should be dark brown, and the centre a little paler. This should produce Anzacs with crispy edges and a chewy middle. Bake a little longer - only a few minutes - if you want a crispier Anzac.

Remove from oven and cool on wire racks. The cooling stage is important to get the right mix of crisp and chewiness.
Notes
This recipe uses a little more water than ordinary Anzac biscuit recipes, as the wattleseed absorbs quite a lot of liquid, and it can be too dry otherwise.
2 tblspn muntries blended with forestberry herb is also excellent.